Kombucha: History, Benefits, and How-to
Have you heard of kombucha yet? It's exploded in popularity over the past few years and went from being the drink of hardcore health nuts to available in just about any grocery store aisle.

But reading the nutrition facts label had me confused. Is it actually an alcoholic beverage? Is this part of a healthy diet or just another fad?

Of course, I had to know more before I jumped on the kombucha bandwagon.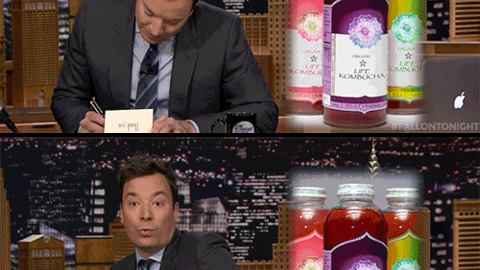 Here's what I found out:
What exactly is kombucha?
Kombucha is basically sweetened tea that has been fermented. A special kind of culture called a SCOBY (Symbiotic Culture of Bacteria and Yeast) is placed in a jug of sweet tea and it goes to town eating the sugar up and leaving a vinegary drink behind.

This drink is full of probiotics and if you haven't heard yet, probiotics are essential to maintaining gut health. And there's so much research to indicate that the health of our guts is essential to the health of our entire body.

The more diverse probiotics from fermented foods we consume, the stronger our gut flora becomes. This is precisely why kombucha has been regarded as a health potion for thousands of years.
Where did kombucha come from?
Kombucha has been around for so long that there's some disagreement on where it originally came from.

Some claim it is from China, others Japan, and still others insist it is Korean in origin. There's evidence of the drink in histories of all three countries.

From what I found out, it's pretty universally accepted that kombucha was first brewed in Asia, and then was distributed worldwide as soldiers in World War I exchanged cultural customs, including fermentation processes and cultures. (I trust if you're sipping this at you're the office, you won't be pop quizzed, but just in case you were curious.)

Can you make your own kombucha?
It's quite easy to make kombucha at home. It's much healthier to do so as well, some of the brands that you can buy at the store add in fruit juice after fermenting and this adds sugar to the beverage.

And, of course, the last thing you want to do is drink sugar when you're trying to do something healthy for your body.

So if you want to get started brewing this at home you'll need some simple supplies:

A large glass or ceramic jar, preferably with a spigot
Cheesecloth, paper towel, or coffee filter
Rubber band
Tea — green or black
White sugar
SCOBY (Details on this below)
Airtight swing top bottles — optional
First, you need to either procure or grow a SCOBY.

There are several places online to purchase a SCOBY, they are shipped in airtight, leakproof packaging with a bit of what's called "starter tea." This is the easiest and fastest way to get a batch of kombucha going.

You can also use a bottle of store-bought kombucha and grow your own SCOBY. This will take several weeks. Start by brewing some sweet tea — about a ½ cup of plain white sugar to 6 cups of tea — use about 4 tea bags or 1 tablespoon loose leaf tea. Then dump half the bottle of store-bought kombucha and your cooled brewed tea into a glass container. Cover the top of the container with cheesecloth or a coffee filter and secure the top with a rubber band. Put the mixture in the pantry or cabinet and leave it alone for several weeks. After some time, you will notice a small white, rubbery substance floating in your tea mixture. This is the SCOBY.

Once you have the SCOBY, you need to brew some tea.

Use one cup of sugar to a strong batch of tea, about 8 bags or 2 tablespoons of tea and 14 cups of water. Once the tea is brewed, be sure to allow it to cool to room temperature. If it's too hot, you will kill the SCOBY.

Add the tea to a large glass pitcher, preferably with a spigot. Then, place the SCOBY in the tea, along with about a cup of the starter tea that either came with your SCOBY or that you brewed with your store-bought kombucha. You can use your clean hands to move the SCOBY. Cover the top of the container with cheesecloth and secure with a rubber band.

Allow the kombucha to ferment. You can leave the mixture on the counter, put it in the cupboard or the pantry. It will ferment faster the warmer the air is in your house. You'll notice the SCOBY growing and getting larger and thicker as time goes by.

After about a week, test the kombucha (this is where the spout comes in handy). It should have a slight vinegar taste to it. If it's not quite ready, just leave it for a few more days and taste it again. Once you're satisfied with the taste, you can successfully say you've made kombucha.

It's really that easy.

If you want to get fancy with it, you can opt for a second fermentation.

If you have the swing top airtight bottles available, pour the kombucha into them. Again, this is where the spigot works wonders.

Add in a couple of berries or slices of ginger, maybe a touch of honey, to each bottle. You can get as creative as you'd like here.

Close up the bottle and put it in the pantry for another week or so. Now you will have that flavored, fizzy kombucha like you would buy at the store but without the added sugars, and at a fraction of the cost.

At this point, store the bottles in the refrigerator for best results — this will stop the fermentation process and help ensure that the alcohol content of the kombucha doesn't increase.

**Fermentation of any kind does produce trace amounts of alcohol. Please consume with caution**

When you drink your batch of kombucha, be sure to leave at least a cup of the old batch in the original container.

Then, all you have to do is make another batch of strong sweet tea, let it cool, and add it to the container with the starter tea and the SCOBY in it and wait for the fermentation process to complete again.

You can do this an unlimited number of times.

Your SCOBY will continue to grow, it might even produce a child SCOBY, and you will need to cut it and give the excess goodness away to friends who want to try their hand at brewing this ancient health drink. You can put the pieces of SCOBY along with some starter tea in a jar and it will keep indefinitely in your pantry.
Give it a try and be sure to let me know how it turned out for you. You can also tag us on Instagram, or Facebook while you're creating using the hashtag #FresYesInsiders.
I have a feeling you'll be having all your friends over to try your batch of Booch, like:
Have fun!
~Gabi (@IamGabiGarrett)
P.S. You don't have to make your own – most of the great local spots in Fresno serve Kombucha, some even on tap! Eureka! has a delicious version of G.T's Kombucha which is served with an edible flower. (Yummy)
Latest posts by Gabi Garrett
(see all)