Club One Comedy Night
When: October 2nd  9:30pm
Where: 1033 Van Ness Ave, Fresno, 93721
First Friday of every month, comedy goes down at Club One Casino, this time we've got a very special guest the Diabolical! Sam Tripoli, one of the original members of the Deathsquad! Along with the likes of Ari Shaffir / Joe Rogan / Madflavor. THIS is a dream come true for me! I've been following these guys for a WHILE. To finally work with the diabolical HIMSELF!? Pssshh, this comic is a nationally touring headliner with a finely honed stand up comedy set, a warrior in the game, is a regular at any comedy club he sets foot in – don't miss your chance to see a truly great comedian.
Also on the card
Kim Hodges : 4 year veteran , born in Clovis CA , making way from Arcata CA, this delight is well versed in the "live for today" humboldt lifestyle , I recently worked with her in a comedy festival and was so impressed I HAD to bring her out to my next show, if you like female comics that don't suck, shes one to watch
Andre Morton : fresh to the game , Andre Morton is coming in HOT. One of the funniest new comics I've seen, and that's not just me talkin bull, his 1st place victory in the Modesto "best new comedy act of 2015" does the talking , you don't know this comic, but trust me when I say, you will, if not Oct 2nd, then the day you see him on TV
For more information visit https://www.facebook.com/events/1146411025385572/
Wicked Burlesque
When: October 3rd  8:00pm
Where: Frank's Place 1432 Fulton Street
The Valley Burlesque Society presents "Wicked Burlesque" on October 3, 2015. The event will be located at Frank's Place on 1432 Fulton Street in Downtown Fresno. The doors will open at 7:00 pm and starts at 8:00 pm. Tickets are $15 and are for ages 18 and older.
For more ticket information visit www.warnors.org
Newsboys Concert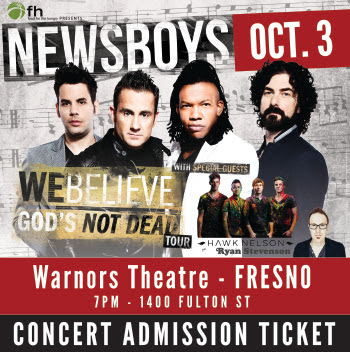 When: October 3rd  7:00pm
Where: Warnors Theatre 1400 Fulton Street
Christian's all-time favorite band, Newsboys, is coming to Fresno at Warnors Theatre, October 3, 2015, for their "God's Not Dead" Tour! Joining Newsboys will be Hawk Nelson, with a Top 5 hit, "Drop in the Ocean" and Ryan Stevenson, who shines everywhere he goes.
A Pre-VIP Experience is available for $35 and a separate concert ticket ranges from $27-$43. The doors will open at 5:00 PM for the VIP Experience and 6:00 PM for the concert. The concert will start at 7:00 PM.
For more information visit www.warnors.org or call at 559-264-2848.
Latest posts by Jason Farris
(see all)